---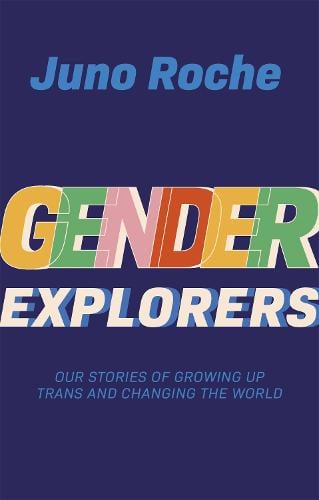 'I believe that children who are questioning and exploring their gender are the gender bosses that we all so desperately need. I believe that they are our future.'
In this life-affirming, heartening and refreshing collection of interviews, young trans people offer valuable insight and advice into what has helped them to flourish and feel happy in their experience of growing up trans.

Speaking openly and candidly about their gender, their experiences of coming out, their aspirations, and their fears – accompanied by interviews and support from their parents and carers – this book is beautiful proof of the potential for trans children to live rich and fulfilling lives when given the support and love they need.
With their trademark candour and empathy, Juno Roche gives voice to a generation of gender explorers who are making gender work for them, and in the process, reveals a kinder, more accepting world, that we should all be fighting for.
---
Men Teaching Children 3-11 provides a comprehensive exploration of work experiences of men who teach young children. The authors draw on their own research as well as international studies to provide realistic strategies to help to remove barriers in order to develop a more gender-balanced teacher workforce. Burn and Pratt-Adams, former primary school teachers who have both experienced these unfair gender practices, also trace the historical roots of the gender barriers that have now become embedded within the occupational culture.
Throughout Men Teaching Children 3-11, the authors argue that primary school teachers should be judged by their teaching talents, rather than by the application of biased gender stereotypes; and that male and female teachers need to work together to remove these stereotypes from the occupation.You can purchase on Amazon UK or buy an e-Book at Bloomsbury Collections
---
The Handbook of Gender and Education brings together leading scholars on gender and education to provide an up-to-date and broad-ranging guide to the field.

You can purchase this book on Amazon UK



---
This stimulating book sets out to critically explore the notion of men, masculinities and teaching in early childhood education. It addresses the global pattern of gender, teaching and care where men are in the minority, and explores the notion that the greater involvement of men within teaching and associated professions has the potential to transform gender relations for future generations.

You can purchase this book on Amazon UK
---
Feminists Researching Gendered Childhoods charts the evolving nature of feminist theory and research methods in childhood studies and the generative potential this holds for researchers, academics and educators to continue to push ideas and practices. The book traces the threads of affect and effect that feminist theories and methodologies have made over time to thinking more, and differently, about gender in childhood. In the wake of the 'new materialist turn' in feminist research, the book sought to address two pressing questions: what is especially new about feminist new materialism, and what is especially feminist about feminist new materialism. These questions are generative, troubling, unsettling and invited the contributors on an adventure that involved re-turning and reconfiguring ideas and practices about gender and childhood.
Along with the editors, Jayne Osgood (UK), and Kerry H. Robinson (Australia), five key international feminist scholars, Mindy Blaise (Australia), Bronwyn Davies (Australia), Debbie Epstein (UK), Jen Lyttleton-Smith (UK), and Veronica Pacini-Ketchabaw (Canada) collaborated on this book project. Their reflective accounts capture the contribution of their own work and that of their peers, to advancing research practices and theorisations of gender in childhood. Having all approached the study of gendered childhoods in creative and critical ways, these important feminist researchers re-engage and critically reflect on their earlier work alongside their more contemporary contributions to the field. The book is as much about the processes involved in its creation as it is about the material/digital end product. The chapters work with both familiar and unfamiliar feminist methodological frameworks that bring affect, materiality and embodiment, as well as textual representations of gender and childhood, into play. The book engages with, and generates artwork, poetry, photographs as a means to grapple with how gender, childhood, family, curriculum and policy have been, and might be researched. The book captures a lively, collaborative, feminist experiment that sought to make space for fresh conceptualisations of gender in childhood. Issues addressed include: social justice and transformative methodologies in childhood research; advancing theoretical perspectives that contribute to fresh understandings of gender in young children's lives; the ways that research into gender in childhood play out in educational agendas; and the specific gender issues perceived critical to address in contemporary childhoods lived in the post-Anthropocene. You can purchase the book on Bloomsbury Collections  or on Amazon UK


---
This comprehensive first of its kind guidebook explores the unique challenges that thousands of families face when raising their children. Through extensive research and interviews the authors cover gender variance from birth to college. What do you do when your daughter's first sentence is she's a boy? What will happen if your small son wants to wear a dress? Is this just a phase? What do therapists say? Doctors? What is gender anyway? These are just some of the topics raised and discussed, offering a deeper understanding of gender difficulties in children and teens.
You can purchase a copy of this book at Amazon UK or Amazon US
---